Location
The conference will be held at the Holiday Inn Porto Gaia, Gaia, Portugal.

The city of Porto leads the top 10 European destinations from Lonely Planet and was elected for the second time "Best European Destination 2014", by the European Consumers Choice. The city was first awarded the honor in 2012.
Voters decided to reward Porto for "its excepcional history, architecture, culture, gastronomy, trade, encounters and discoveries."
How to get to Porto - Vila Nova de Gaia.
The conquest of Portucale in 868 by Vímara Peres, a warrior of king Afonso III, from Leon, is duly considered as an event of the most ancient history of Porto.
Portucale was, thus, in fact what named and gave birth to the Portuguese Nation!
Porto is the city of bridges and it has six different bridges: D. Maria II Bridge, Maria Pia Bridge, D. Luís Bridge, Arrábida Bridge, S. João Bridge, and Freixo Bridge.
Porto has an Unesco classified area that comprises the medieval borough located inside the 14th-century Romanesque wall. It includes the oldest buildings in the city, as well as typical streets and attractive public areas.
The people of Porto, amid whose qualities underlies a deep civic pride, contributed with everything they had for the equipment and supply of the ships that sail in 1415 for the conquest of Ceuta. They generously and patriotically gave in all the meat from their cattle, leaving for themselves nothing but the entrails of those animals, which granted them a designation that is their utmost legitimate pride title: that of the tripeiros (which literally means tripe eaters).
Port Wine is a sweet fortified wine, exclusively produced in the Douro designated region, named after the city of Porto, where it is aged and bottled. Its unmistakable bouquet, body and flavour are due to the high quality of the grapes, as well as to the region's soil and climatic conditions.
"Vinho do Porto" is basically a geographic name of origin.
Facing the big lodges of port wine to which it gave its name across the river Douro, Porto is Portugal´s second largest city and there is a certain feeling of rivalry towards Lisbon. But although its ancient roots have been preserved with pride, a modern and lively commerce makes it a thriving city and its traditional importance as an industrial center does not diminish the charm and character of its old quarters or even of the newer and busy avenues, shopping centers and quiet residential blocks.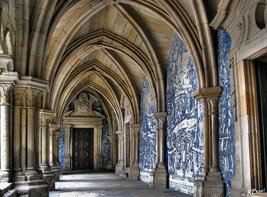 The Cathedral area deserves to be explored, with its various monuments, such as the Renaissance church of Santa Clara, and the densely populated quarter of Barredo, which appears not to have changed since medieval times. The riverside quarter of Ribeira is also delightful, with narrow streets, typical houses and picturesque life-style: it has been recently restored and now includes fashionable restaurants and bars. Equally lively and colourful is the market of Bolhão, where you can buy almost anything, but more elegant shops can be seen nearby, especially the jewelleries and leather goods shops in the Baixa (down-town).
Porto affords many other attractions, monuments and museums, as well as a cultural agenda which has been steadily improving. With a well-known gastronomy and hospitable population, it is also the starting point to explore the river Douro in an unforgettable journey upstream.
Useful links: